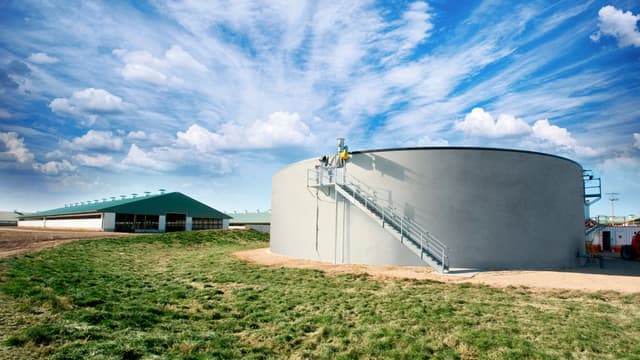 Who we are?
Obeo Biogas is a biogas developer specializing in the design, construction, and operation of biogas systems specifically tailored for dairy farms. Our core mission is to convert organic waste, specifically manure, into renewable energy, sanitized bedding, and nutrient-rich fertilizer through anaerobic digestion.
As a biogas developer, sustainability, environmental stewardship, and community engagement are at the heart of our values. We prioritize working closely with local communities and stakeholders to educate and involve them in the development and operation of our biogas projects, emphasizing the technology's potential to reduce greenhouse gas emissions and promote circular economy practices.
At Obeo Biogas, we strive to be at the forefront of innovation and technology, constantly researching and developing new ways to optimize biogas systems for the dairy industry. Our ultimate goal is to create a more sustainable and environmentally conscious future for all.
Our Team
With over 50 years of collective expertise in designing, operating, and optimizing anaerobic digestion and landfill gas systems, the Obeos team is uniquely positioned to offer comprehensive evaluations of projects at any stage of their development. Our extensive knowledge base enables us to provide valuable insights and actionable recommendations that can help streamline processes, reduce costs, and maximize project outcomes.
Environmental, social and governance (ESG)
At Obeo biogas, we are dedicated to providing sustainable and innovative solutions that promote environmental, social, and governance (ESG) best practices. We believe that our business has a critical role to play in addressing the world's environmental challenges, and we are committed to doing our part to protect the planet and its resources for future generations.
We recognize that our success depends on our ability to operate in a socially and environmentally responsible manner. To this end, we have implemented rigorous ESG standards across our operations to ensure that we are meeting the highest levels of environmental and social responsibility.
We are committed to promoting sustainable development through the production and distribution of biogas. Our biogas solutions reduce greenhouse gas emissions and promote sustainable waste management by utilizing organic waste materials. This approach not only generates renewable energy but also creates valuable by-products, such as organic fertilizer, that can be used in agriculture.
We strive to be a responsible corporate citizen and are committed to conducting our business in an ethical and transparent manner. We maintain open and ongoing communication with all of our stakeholders to ensure that we are aligned with their expectations and needs.
Our ESG approach is an ongoing journey, and we continuously evaluate and improve our practices to ensure that we are meeting our ESG goals. We are committed to operating with the highest levels of integrity, accountability, and transparency, and we are proud to be making a positive impact on the environment and our communities.